HHA Recognizes the Lifeblood of Houston Heights at the 44th Annual Volunteer Appreciation Dinner
This year's honorees…
President's Award: Sharon Dearman
Pioneer Award : Randy Pace
Rising Star Award: Kevin Chenevert
Visionary Award: Braun Enterprises
Citizen of the Year Award: Bill Pellerin
Marcella Perry Award: Kathleen Williamson
Corporate Citizen of the Year Award: Jubilee
The 44th Annual Volunteer Appreciation Dinner & Community Improvement Awards took place on February 25, 2018 at the Houston Heights City Hall & Fire Station. Emceed by HHA President Bill Baldwin, much of the event was rightfully spent honoring not only current Houston Heights stand-outs but also beloved leaders of past generations. Bill opened the ceremony saying, "We only have such a bright future ahead because of the legwork done in the past by those before us. Our neighborhood is more intact because of these individuals, and we have to work to preserve that."
In a heartening show of new resident and business engagement, over half the room stood when Bill asked who was attending the event for the very first time. As an example of this re-expansion of Houston Heights fervor, Bill cited that the number of Donovan Park visitors has grown 10 times what it was a decade ago, and he encouraged all to think of themselves as winners for choosing to live, work, and play in this neighborhood. Bill recognized the outstanding efforts of Andrea Hellyer in chairing the event, with the help of Danae Stephenson and Carol Welter. With that, he turned it over to Community Improvement Awards Chair Jason Starr for the presentation of 2017 Community Improvement Awards, which you can read about here.
The awards presentation began with the President's Award. Wearing his HHA President hat, Bill expressed how difficult it was to decide on just one individual to award with so many deserving of recognition before announcing Sharon Dearman as his selection. Sharon was recognized for her phenomenal efforts throughout the last year in steering a redesign of the HHA website, along with a variety of other duties she carries out expertly as VP of Communications. Sharon was quite literally speechless but expressed her surprise and gratitude. Bill also recognized Jim Bennett, Angela DeWree, and Mark Williamson as a deserving and equally indefatigable group of volunteers who contributed enormously to the HHA last year.
Then, for the first time ever, the Visionary Award was presented to Braun Enterprises as the inaugural honoree. The local commercial development firm was awarded for their ongoing and deep investment into Heights retail and dining. Their highly anticipated adaptive reuse of the Heights Waterworks property into a mixed-use center will be their 26th project in the neighborhood, a list that includes several properties along 19th St., 20th St., and Yale. Their first acquisition in the Heights was the building that has long been the home of the Yale Pharmacy, which Braun famously left intact, setting out only to renew the beloved neighborhood business as tenants as long as they wished to stay. Dan Braun accepted the award on behalf of the family-owned business stating his now tried and true development principle of: "If you do something that isn't what the Heights wants, you'll likely fail."
Julie Pettit, a past Citizen of the Year with her husband Byron, gave an important history lesson on three luminaries of Houston Heights past who are sadly no longer with us: Walter Workman, Bart Truxillo, and Martha Pieratt. Walter Workman was a past Citizen of the Year with his wife Jerri, and he served as HHA President during the development of the Association's Vision and Mission statements. Bart Truxillo, another Citizen of the Year, was best known for his work as a preservationist. He renovated the Magnolia Brewery into an event space which was graciously donated to the HHA for events in the years before the Fire Station restoration. Bart's restored Victorian mansion on the corner of 18th and Harvard was embellished with famously quirky touches like a disco ball in the turret. Finally, Martha Pieratt was recognized as a warm presence in the neighborhood who volunteered tirelessly, often behind the scenes, for home tours and other events over the years after moving to the Heights in the early 2000s. Julie couldn't have overstated the importance of the contributions of these three individuals, "The people who, as plan for our future, have helped to make our community where we want to live, work, and play. "
The glory continued with the 2017 Rising Star Award. VP of Fundraising & Special Events Danae Stephenson introduced this year's winner as a man who wears many hats as an HHA business member, committee chair, and all around Johnny-on-the-spot to the organization in recent years. "The only flaw I've found in him is that he doesn't know how to say 'no'," quipped Danae before presenting the award to President-Elect Kevin Chenevert. Kevin hearkened back to his wedding at Marmion Park and reception at the Fire Station as the spark to his whirlwind rise through the HHA ranks. He cited the strong spirit of camaraderie and teamwork among the all-volunteer HHA leadership as his inspiration to get and stay involved. "To watch what you can do with a volunteer group over a year's time is truly amazing."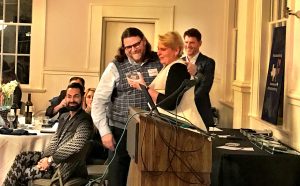 In presenting the 2017 Pioneer Award, Anne Sloan conceded that compared to this year's honoree, dubbing her the Houston Heights historian is a bit of a misnomer. Anne joked that this year's winner, Randy Pace, "has forgotten more about Heights history than I've ever known." Randy beamed with pride as he accepted the award for his efforts as a past Director and a formidable force, along with Paul Carr, in saving the Fire Station from the wrecking ball before it was acquired by the HHA from the City of Houston. He also served as Chairman for the Donovan Park Design Committee. Outside of his HHA leadership roles, he is founder and co-owner of neighborhood favorite Carter & Cooley Co. Delicatessen, a past Community Improvement Award winner in its own right.
Then, Corporate Citizen of the Year presenter Kelly Simmons gleefully proclaimed herself president of the Kristal Kirksey fan club as she presented Jubilee with this year's award. Kelly recalled Kristal's generosity year and after year when it came to adding a special touch to HHA events through donated merchandise from the beloved boutique. Kelly lauded Jubilee for her pivotal role in ushering in the new era of "buying local" at the signature 19th Street Shopping District of Houston Heights. Kristal, lovely as always, received the award in complete gratitude for her neighbors and neighborhood.
The Marcella Perry Award is always one of the significant awards of the night because it is designed to show special appreciation for a volunteer who has done most of their work behind the scenes, in the style of HHA Charter Member Marcella Perry. Mark Williamson proudly presented the 2017 award to his wholly unsuspecting wife Kathleen Williamson. Kathleen has held countless volunteer posts, including several committee chairwomanships and assistant editorship of the HHA newsletter for over a decade. Blushing, Kathleen thanked the crowd for the honor and the HHA for giving her and Mark "a place to call home."
Without further ado, the Citizen of the Year Award was then presented to Bill Pellerin. As presenter, Bill Baldwin reviewed Bill Pellerin's extensive service over the last few decades of the HHA, including his term as a Director and past VP of Community Affairs. Bill Pellerin notably chaired the Land Use Committee for many years, a position for which he was uniquely qualified following his outside leadership in seeing the Historic District designation given to Houston Heights. Bill Baldwin quoted Donna Bennett, who described Bill Pellerin's ongoing commitment to historic Houston Heights stating, "He has stayed involved by participating in focus groups and committees related to these Districts." She continued, "Bill has been a calm and steady presence in the community on what's often a contentious topic. This speaks to one of Bill's strengths – most importantly when his participation was HHA related and he interacted with others outside the Heights." Bill received the award to a standing ovation, stating of his efforts, "I hope we can all continue to enjoy the neighborhood and the historic character."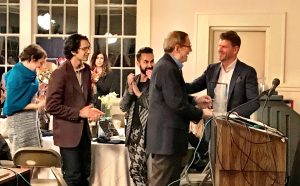 To complement the evening, charming music was performed by pianist Tripp Blanchard, and a wonderful dinner was catered by Butter & Co..
All in all, the evening was a warm reminder that the best of Houston Heights is in the people who love to call it "home," and who show their love through tireless, selfless service to the community.